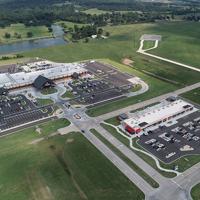 Creation of a new LLC for cultural and economic development |
TAHLEQUAH – While reporting to the Cherokee Nation Tribal Council Executive and Financial Committee, Cherokee Nation Businesses CEO Chuck Garrett announced the formation of a limited liability company to advance culture and tourism for the CN.
Cherokee Nation Cultural and Economic Development is an LLC created in late 2021 and is now operational. According to officials, the public might not notice many differences, but the realignment makes some operations easier.
"The new LLC integrates CNB's efforts to promote culture and economic development on the Cherokee Nation Reservation," said Molly Jarvis, senior vice president of marketing and cultural tourism for CNB. "This includes the tribe's robust tourism offerings such as museum operations, tours, programs and events, as well as OsiyoTV, the Cherokee Nation Film Office and other real estate and business development groups. Each group within the new LLC has its own identity and purpose, but all are equally important in our shared mission to stimulate the economy, preserve Cherokee culture, and create jobs for Cherokee citizens.
Several CN museums are located on the reservation, while Osiyo is an Emmy-winning series featuring segments that highlight the Cherokee people and culture. The CN Film Office promotes locations, crews and acting talent for television and film productions.
"Our cultural tourism program began in 2008 through a strategic plan that created vital infrastructure leading to the development of six museums, two visitor centers with a third on the way, the Cherokee National Research Center, various operations of retail and a national park," Jarvis mentioned. "This is just one example of how we are protecting and preserving our authentic history and creating opportunities for economic development. The new LLC will support these efforts and many more, and together, through economic vitality, regional partnerships, and access and preparation for high-quality employment opportunities, we will improve the quality of life for next seven generations.