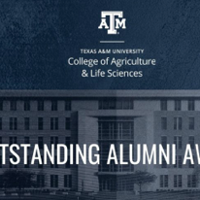 Outstanding Alumni Recognized by Texas A&M College of Agriculture and Life Sciences | News
Five alumni of the Texas A&M University College of Agriculture and Life Sciences received awards May 20 at the Outstanding Alumni Awards Ceremony at the Shirley and Joe Swinbank '74 AgriLife Center in College Station. Alumni have been honored with either the Outstanding Early Career Alumni Award or the Outstanding Alumni Award.
Outstanding Alumni Price Chart.
"The alumni we celebrate through these awards embody what it means to be a Texas A&M Aggie," said Mark A. Hussey, Ph.D., acting vice chancellor and dean of agriculture and health sciences. life. "I am immensely grateful for their contributions in their respective fields and proud that they are a product of our College. These awards are among the highest honors bestowed by our College.
Early Career Alumni Achievement Award
The Outstanding Early Career Alumni Award honors alumni who have graduated within the past 15 years and who have made outstanding contributions to their careers, public service and volunteer activities.
A Young Woman Standing – Recipient of the Outstanding Early Career Alumni Award Logan Lester Tafelski '16.
— Logan Lester Tafelski '16. Tafelski is an agent for RE/MAX Fine Properties and the Sansone Group in Houston. In 2017, she was named to the Houston Association of Realtors 20 under 40. She is respected for her innovative use of technology, industry expertise, and strength in fostering meaningful client relationships.
Tafelski earned a bachelor's degree in University Studies-Leadership in the Department of Agricultural Leadership, Education and Communications. In this program, she discovered her passion for service and community outreach.
In 2018, Tafelski was named Miss Texas USA and placed in the Top 15 of the Miss USA pageant. Since her reign, she has continued to build an impactful public platform on social media, encouraging others to help build self-esteem and promote healthy positivity. She volunteers with Sky High for Kids, an organization supporting children battling childhood cancer and other life-threatening illnesses.
Tafelski is involved with other charitable and philanthropic organizations in the Houston area, including Ronald McDonald House Houston, SEARCH Homeless Shelter, BEST Buddies of Houston, MD Anderson Cancer Center, and Friends of Down Syndrome Houston.
She remains involved with Texas A&M, serving as a guest speaker for leadership classes, providing professional mentorship to female Aggies, and supporting the Rodeo Houston Scholarship Program.
A Bearded Man in a Brown Suit – Outstanding Early Career Recipient Jonathan A. Cammack, Ph.D.
Jonathan A. Cammack '07, Ph.D.
– Jonathan A. Cammack '07, Ph.D. Cammack is the COO of EVO Conversion Systems at College Station. The company uses black soldier flies to digest food waste and reduce its impact on the environment.
Since launching the company in 2017, EVO has recycled more than 200,000 pounds of food waste in Bryan and College Station, preventing the production of greenhouse gases, landfill overflows and water pollution. In 2019, EVO received the Launch Award from the Brazos Valley Economic Development Corporation.
Cammack earned a bachelor's degree in entomology from Texas A&M in 2007, a master's degree in entomology from Clemson University in 2009, and a doctorate in entomology from North Carolina State University in 2013. He returned to the Texas A&M Department of Entomology in 2014 as a postdoc. research associate; his research focused on entomology and nutrient cycling.
Cammack worked with research colleagues to launch the EVO Conversion Systems and moved into a full-time position with the company in 2019. He has helped over 30 companies worldwide with their production of black soldier flies and continues to support Texas A&M AgriLife by speaking at educational conferences. programs and advice on rearing colonies of black soldier flies.
The Outstanding Alumni Award honors graduates whose leadership, integrity, and character have not only advanced agriculture, natural resources, life sciences, or related fields, but have also improved the College and its programs.
A smiling man in a dark suit – Outstanding Alumni Award recipient Robert "Hunter" Goodwin '96.
Robert "Hunter" Goodwin '96
—Robert "Hunter" Goodwin '96. Goodwin is owner, chief operating officer and director of hospitality at Oldham Goodwin Group LLC in Bryan-College Station. The company provides its expertise to make investing, managing and developing real estate in Texas accessible and reliable.
Goodwin is passionate about community and creating opportunities for economic growth and development. He currently serves on the Hawthorn Franchise Advisory Board for Wyndham Hotels and sits on the board of directors for Scotty's House and American Momentum Bank.
Goodwin earned a bachelor's degree in agricultural economics while captaining the Miami Dolphins in the NFL. After a nine-year career in the NFL, he retired to the Bryan-College Station area. In 2013, Goodwin was inducted into the Tyrus R. Timm Department of Agricultural Economics Honor Roll of Alumni of Agricultural Economics.
Goodwin's involvement with Texas A&M, the College of Agriculture and Life Sciences and the Department of Agricultural Economics continues. His donations to various college and university programs provide students with the opportunity to develop strong business and entrepreneurial skills. He frequently participates as a "teacher for a day" in several courses in agricultural economics, is a member of the development board of the College of Agriculture and Life Sciences, and is currently president of the Vice-Chancellor's Forum.
He served on the board of directors of the 12th Man Foundation and as president of the Texas A&M Lettermen's Association in 2013. He is currently chairman of the board of directors of TexAgs.com and president of the Texas A&M University System RELLIS External Academic Advisory Council.
A gray-haired old man in a casual suit – Outstanding Alumni Award recipient Henry A. "Hank" Fitzhugh Jr. '61.
Henry A. "Hank" Fitzhugh Jr. '61, Ph.D.
– Henry A. "Hank" Fitzhugh Jr. '61, Ph.D. Fitzhugh has worked for more than 50 years to reduce poverty and increase sustainability and scientific excellence in Africa, Asia and Latin America.
Fitzhugh earned a bachelor's degree in animal science in 1961, a master's degree in meat science in 1963, and a doctorate in animal husbandry in 1965, all from Texas A&M. After a postdoctoral fellowship, he returned to Texas A&M as a faculty member. He then spent many years in positions of increasing responsibility in animal science research and development organizations.
Among his many roles, Fitzhugh helped lead the International Livestock Center for Africa, ILCA, from 1990 to 1994. As Chief Executive and Deputy Chief Executive, he led multidisciplinary teams' research to improve productivity and sustainability of African livestock systems. When ILCA merged with a veterinary science organization to create the International Livestock Research Institute, ILRI, Fitzhugh was chosen as the new organization's first chief executive.
Fitzhugh led ILRI from 1995 to 2001 to fulfill its global livestock research mandate, developing interdisciplinary biological, agroecological and economic research to improve the productivity and sustainability of livestock production systems.
In his next role as Director of the International Fund for Agricultural Research, he promoted scientific excellence in agriculture in Africa and South Asia. Fitzhugh also led a project to increase Ethiopian meat and livestock exports, which was managed by the Norman Borlaug Institute for International Agriculture and the Texas A&M University System and funded by USAID. In 2012, he became a senior scientist at the Borlaug Institute and an assistant professor in the Department of Animal Science at Texas A&M.
For his many contributions, Fitzhugh received the American Society of Animal Science Bouffalt's International Animal Agriculture Award and the Special Service Award from the Association for International Agriculture and Rural Development.
A white-haired older man in a suit and tie – Outstanding Alumni Award recipient Charles H. "Charlie" Whiteside '53, Ph.D.
Charles H. "Charlie" Whiteside '53, Ph.D.
– Charles H. "Charlie" Whiteside '53, Ph.D. Whiteside is a U.S. Army Veteran and Chairman Emeritus of Ana-Lab, a nationally recognized environmental testing laboratory that he and his wife , Jo Ann, opened in 1965. Ana-Lab employs skilled workers in Kilgore and seven satellite offices across Texas, Louisiana and Oklahoma. The lab provides more than $12 million annually in economic impact for Gregg County.
Whiteside is a three-time graduate of Texas A&M. He earned his bachelor's degree in animal husbandry, a master's degree in poultry nutrition and his doctorate in biochemistry. In his undergraduate program, Whiteside served in the Corps of Cadets, worked in the cattle barn and building the G. Rollie White Coliseum.
After graduating, he served as an officer in the U.S. Army and worked for the U.S. Department of Agriculture before completing graduate school. After working in the industry, the Whitesides opened Ana-Lab. After becoming president emeritus of the lab, Whiteside continued to find ways to serve Texas A&M and its community through local organizations and its church. Additionally, the Whitesides made strong contributions to Texas A&M as members of the Double Diamond Century Club. More recently, Whiteside and his wife established three scholarships to benefit students in poultry science, animal husbandry and chemistry.
Whiteside is passionate about its community and young people. He is the director of the Upshur Rural Electric Co-op, sponsors a summer musical day camp for pre-teens through Kilgore College, and enjoys mentoring youth in the East Texas area.