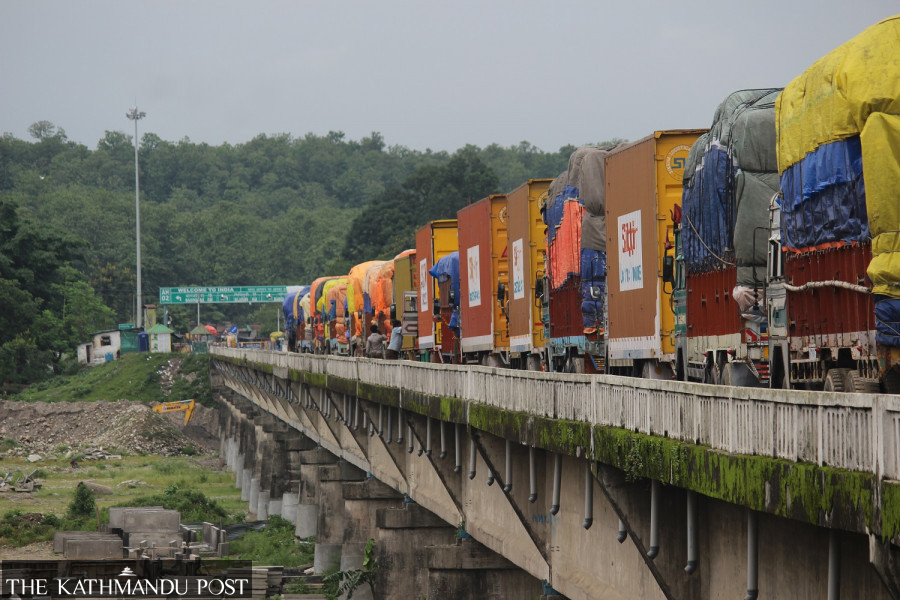 Soaring imports and trade deficit plunge Nepal into economic crisis
A surge in imports in recent months has drained foreign exchange reserves to dangerously low levels, threatening to precipitate economic disaster, with most indicators showing warning signs. Experts have described Nepal's current economic situation as the "Dutch disease", as feverish consumption has been a boon for the commercial sector, but has spelled disaster for manufacturing and agriculture.
They say a huge amount of money is being invested in the unproductive sector resulting in a trade boom and a gaping trade deficit.
According to a research report entitled "Remittances, Banking Credit to Private Sector, and Nepal's Trade Deficits" released Thursday by the Confederation of Banks and Financial Institutions of Nepal, 20% of loans issued by banks were used to finance trade, which which notably represents wholesale and retail services.
Loans to the agricultural sector stood at 7.8%. Approximately 15% of the credit issuance was devoted to production. The mobilization of credit in production is decreasing every year, which, according to experts, is worrying.
"Remittances are good, but they hurt the country's competitiveness as all skilled and semi-skilled people go abroad," the report said. "The money they send back to the country is also not used in the productive sector."
An example of rampant imports is provided by the ever-increasing shipments of edible oils entering the country. Imports of edible oils (soya, palm and sunflower) soared to Rs 113.87 billion in the first 11 months of the current financial year ending mid-July.
Imports of edible oils for the whole financial year 2018-2019 were valued at Rs 37.12 billion.
Experts say importing and re-exporting edible oil under the zero-duty privilege gives Nepali traders a profit of nearly 45%, a benefit Nepal receives under the South Free Trade Area. Asian (SAFTA).
Countries outside South Asia face tariffs of 54% on palm oil and 45% on soybean oil.
According to the World Bank's Nepal Development Update in December 2019, Nepal took advantage of this arbitrage opportunity and significantly increased exports of both commodities – palm oil and soybean oil.
The report recommended appropriate policies to ensure that remittances are properly channeled to the economically productive sector or to improve exports by developing mandatory savings and investment provisions.
According to statistics from the Customs Department, Nepal's total import bill soared to Rs 1.76 trillion in the first 11 months of the current fiscal year. The figure represents a staggering 27.5% year-over-year jump.
Income from remittances in the first 10 months of the current financial year amounted to 811.79 billion rupees, according to Nepal Rastra Bank.
The report says remittances, bank credit to the trade sector and the trade deficit increased from 1996 to 2019 before the Covid-19 pandemic briefly slowed things down. The growth trend, especially imports, has maintained its momentum in the current fiscal year, which experts say is a real emergency for the country's struggling economy.
Remittances have risen sharply since 2001, increasing by 2% to 11% per year, with political instability playing a major role in driving young people to work abroad due to lack of jobs in the country.
There is a lag between remittances and job creation, indicating that most of the money is destined for consumption rather than production or job creation.
Ramesh Paudel, an associate professor at the Central Department of Economics, said when loans are mobilized in trade, it will support consumption, thereby promoting imports.
"It is important that banks and financial institutions focus on increasing their issuance of loans to the productive sector," he said.
Paudel said Nepal had seen growth in the service sector, but without the manufacturing base being strong enough, it did not last long. Experts say that for there to be a sustainable economy, the manufacturing sector must be strong so that the service sector can absorb the goods it produces.
The credit issue should prioritize agriculture, hospitality, import of goods such as machinery and production equipment, health care and small and medium industries, according to the report.
"Bank credit to the private sector, especially for trade, is strongly associated with the 85% trade deficit, resulting in the majority of credit being absorbed by the unproductive sector," the report said.
"If most of the credit goes to the unproductive sector, this situation weakens the economy," the report said.
"Lenders and policymakers normally focus on achieving the objective of economic growth by financing the productive sector; but in the case of Nepal, it does not appear to have been done that way," the report said.
"The central bank, banks and financial institutions and policy makers are also responsible for the faulty policy," the bankers said at Thursday's event.
Pawan Kumar Golyan, president of the Confederation of Banks and Financial Institutions of Nepal, admitted that banks and financial institutions have neglected investments in the productive sector.
"We have to admit that the private sector is investing more in unproductive sectors like commerce. Bank investment in trade actually promotes the trade deficit. Although trade contributes to income, it is not a sustainable activity to create jobs and contribute to long-term economic growth," said Golyan, who also chairs NMB Bank and Golyan Group.
He stressed the need for a double-digit interest policy with a single-digit interest rate for the productive sector and a double-digit interest rate for business enterprises.
The Confederation of Banks and Financial Institutions of Nepal suggested that the government could offer attractive offers to save a certain percentage of remittances or offer a special interest rate on remittance deposits.
The report recommended launching attractive savings schemes for non-resident Nepalese and encouraging them to invest in the stock market.