 Sri Lanka economic crisis
What's going on in Sri Lanka?

Sri Lanka's economy has been heading for an economic crisis since the pandemic hit hard. The Sri Lankan government declared an economic emergency on September 1, 2021 amid falling foreign exchange reserves, depreciating currency and soaring inflation. Gotabaya Rajapaksa, the country's president, has appointed an essential services commissioner to control traders' hoarding practices and ensure an adequate supply of essential goods at prices set by the government.
What caused the crisis?

Multiple factors led to the economic crisis in Sri Lanka:
The tourism industry faces a setback
Sri Lanka's tourism industry contributes 10% to the country's gross domestic product and is a major source of foreign exchange. However, it has been hit hard by the pandemic due to which countries' foreign exchange reserves have dropped significantly. It has fallen from over $7.5 billion in 2019 to around $2.8 billion in July 2021. To meet the import demand for goods, Sri Lankans have had to shell out more money to buy the necessary foreign exchange reserves in the face of the drying up of reserves. . Consequently, the Sri Lankan rupee depreciated by 8% in 2021. Moreover, even for primary food supplies, the country depends mainly on imports, and the fall in the rupees has led to an increase in food prices.
· Government policy on organic agriculture
Mr. Rajapaksa announced in early 2021 his intention to make agriculture 100% organic by banning chemical fertilizers. Instead of creating a positive impact, the policy further accelerated the crisis by affecting agricultural production. Many farmers and agricultural scientists opposed this law. They believed this could aggravate food shortage problems, as tea and other crops could soon reach half of current production capacity.
Ordinance on public security and other restrictions
According to the government, speculators were responsible for hoarding and driving up the prices of essential foodstuffs. Under the Public Security Ordinance, the government declared an economic emergency and called on armies to seize food from traders and supply it at fair prices. In addition, they have been tasked with ensuring that only essential food items are imported using foreign exchange reserves. Initially, the government refused to end its aggressive agricultural policy, justifying its long-term benefits with short-term suffering. As an alternative, they promised farmers to provide organic fertilizers. In addition, the Central Bank of Sri Lanka banned traders from entering into forward foreign exchange contracts and capped the exchange of the Sri Lankan rupee against the US dollar at 200. All of this fueled the existing economic crises.
Debt in foreign currency
Currently, more than $5 billion in loans are owed to China, and it is paying an additional $1 billion loan raised from Beijing in installments. Sri Lanka owes money to many other countries and private sectors outside of China, mainly Japan and India. Total outstanding debt would be $6.9 billion this year. In November, only $1.58 billion in foreign exchange reserves were available, compared to $7.5 billion in 2019. As a result, many rating agencies downgraded sovereign bonds to a significantly low level. Economic and financial crises can reduce food security by reducing production and stopping imports due to the scarcity of foreign exchange.

What is the current state of the economy?
From 2021 to September 3, 2021, the Sri Lankan rupee (LKR) depreciated by 10.1% against the US dollar, 11.4% and 10.3% against the British pound and the Indian rupee, respectively.
The graph below indicates a depreciation of the Sri Lankan currency against the US dollar. It shows monthly exchange rate data, where the rate was 202 in January 2022 from 190.5 in January 2021. An upward trend was observed which indicates the fall or depreciation of the currency of the Sri Lanka in the context of the current crisis.
Source: World Bank
In August 2021, headline inflation fell from 6% to 5.7% in July 2021 due to the monthly increase in food and non-food prices.
The graph below shows the annual inflation rate data. It can be observed that the annual inflation rate is constantly increasing during the period of 2018 to 2021. The points mentioned above could be the cause of the rise in consumer prices. In 2018, the inflation rate was 2.14%, which increased to 6.15% in 2020 and is equivalent to around 6% in 2021.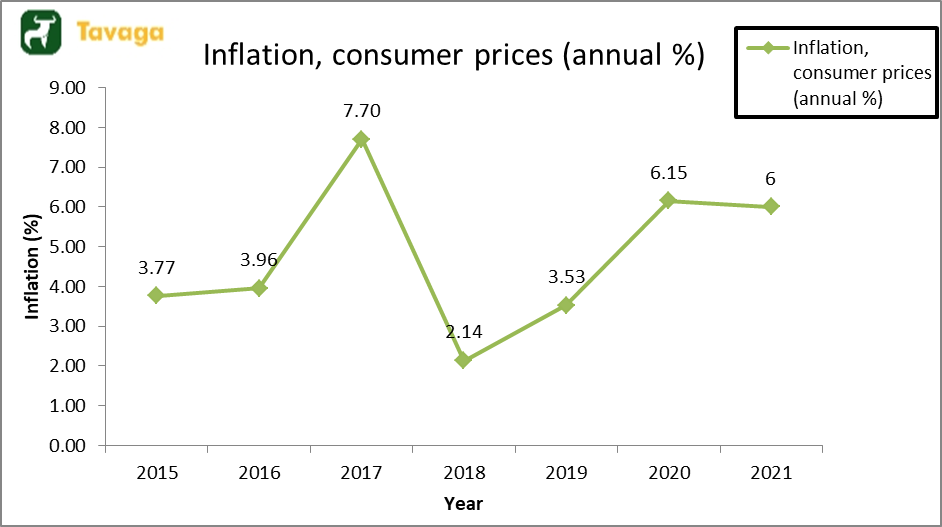 Source: World Bank
In August 2021, food and non-food (YoY) inflation was recorded at 11.5 and 3.5 percent, respectively. The table below shows the Colombo Consumer Price Index (ICCP) for 2021. Core and headline inflation data are shown below; Headline inflation measures total inflation in the country and includes food and energy prices, while core inflation shows a change in the cost of goods and services excluding food and energy prices . For this reason, headline inflation tends to be more volatile than core inflation. The headline inflation rate in November 2021 was 9.9% year-on-year, while core inflation reached 7% year-on-year. Again, an upward trend can be seen in the inflation rate data.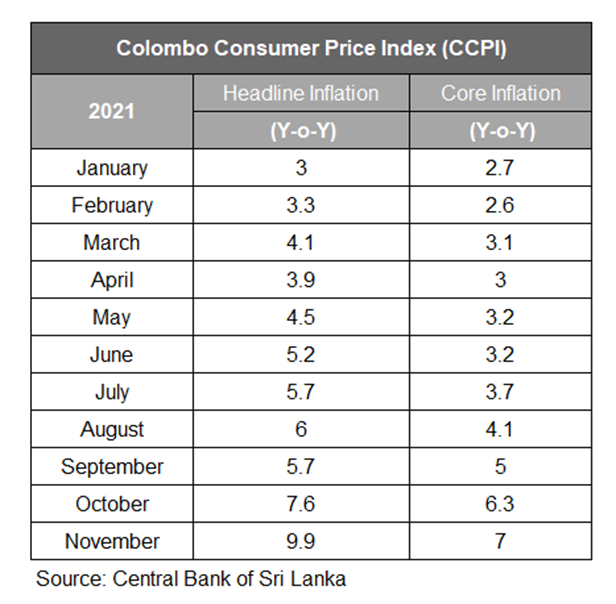 The chart below shows total reserves in billions of US dollars, including . At the end of July 2021, gross official reserves were estimated at $2805.9 million. There is a substantial decline in total reserves from 2018 to 2020. They were $7.65 billion in 2019 and reached $5.66 billion in 2020.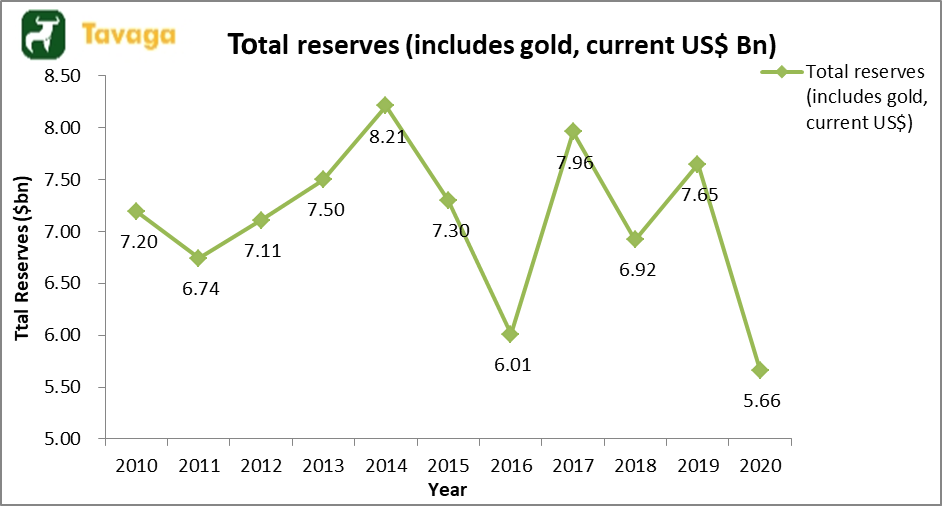 Source: World Bank
What are the future prospects?

The president backtracked on his agricultural policy; however, the situation deteriorated. Farmers have no incentive to import fertilizers to produce goods due to the falling value of the currency. The external debts of other countries push the government to take external aid from the IMF and neighboring partners.
Recently, Sri Lanka approached China to restructure its debt. Additionally, the government plans to provide $1.2 billion in economic relief to 1.5 million government employees, soldiers and retirees through a special monthly allowance of Rs 5,000 starting from January 2022. To help feed the needy, the government may have to raise funds from foreign aid. .
On the debt side, international sovereign bondholders would be asked to reinvest and likely renegotiate terms with them. The authority plans to offer subsidies to farmers who suffered crop loss of 25 to 30 percent and provide 15 kg of wheat each month to workers in the plantation sector.
It is high time that the Sri Lankan administration put in place effective measures to control the current situation. Corrective measures regarding inflation and the weakening of the currency would stabilize the economy and eventually respond to its growth. Foreign financial aid and a set of domestic policy measures could help the economy recover from its current crisis.
Disclaimer: The above description is for informational purposes only. Do not treat it as investment advice.