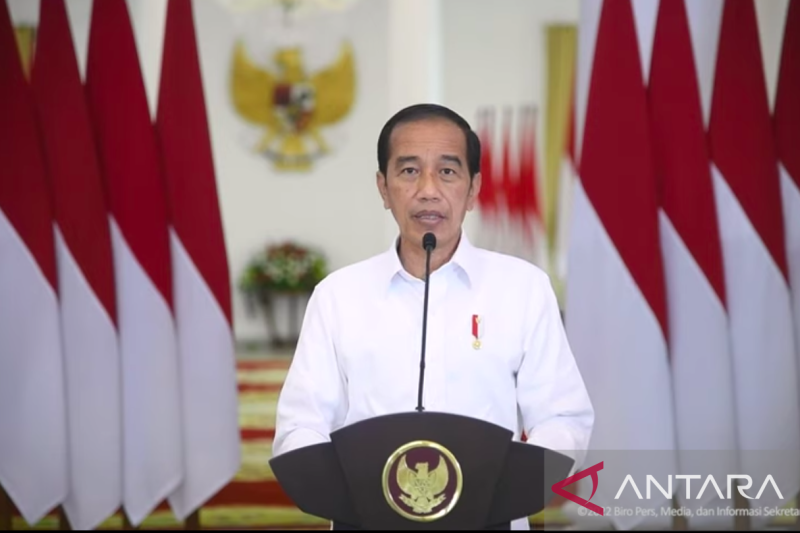 War aggravates global economic crisis: Jokowi
This (war) will aggravate the global economic crisis and increase global political tensions
Jakarta (ANTARA) – The February 2022 war has deepened the global economic crisis as the world has been hit hard by the COVID-19 pandemic, President Joko Widodo (Jokowi) has said.
"When the world started to recover the economy, last month, in February 2022, there was a war that made all countries dizzy," President Jokowi noted in a virtual address to CNBC Indonesia Economic. Outlook 2022 in Jakarta on Tuesday.
In February 2022, Russia declared launching a special military operation in Ukraine which has given rise to global geopolitical tensions to this day.
President Jokowi noted that as of early 2022, the global economy has not fully recovered from the impact of the COVID-19 pandemic.
The ripple effect of restrictions on the mobility of people and goods due to COVID-19 has led to a scarcity of energy sources, food and containers that can potentially increase inflation.
"This (war) will aggravate the global economic crisis and increase global political tensions," he noted.
Political tensions have led to higher prices for oil, gas and raw materials for fertilizers and wheat. Therefore, there is concern that inflation will continue to rise.
"These issues are a challenge for many countries, including Indonesia. We must address these challenges with great caution," he stressed.
The Head of State stressed the importance of collaboration between the government and economic actors to implement appropriate policies to accelerate economic recovery. A form of collaboration is the creation of several investments that become a source of employment and the mobilization of sources of inclusive and equitable economic growth.
"We need fast and appropriate policies and effective implementation. What is clear is that society must not become a victim of this global uncertainty," he said.
Institute for Development of Economics and Finance (Indef) economist Eisha M. Rachbini previously predicted that the state budget deficit could widen in 2022 due to the Russian-Ukrainian conflict.
"Looking forward, if the price of oil consistently hovers at a high above $100 a barrel and prices of key commodities increase, the government will likely intervene in prices and provide subsidies and support. social assistance, which will eventually put pressure on the state budget deficit," he noted.
Jokowi predicted that every US$1 per barrel rise in the price of Indonesian Crude (ICP) will increase the liquefied petroleum gas (LPG) subsidy by Rp 1.47 trillion, the kerosene subsidy by Rp 49 billion, the compensation from the state oil and gas company Pertamina of Rp. 2.65 trillion and an electricity subsidy of Rs. 295 billion.
In the meantime, government revenue from tax revenue and government non-tax revenue will increase by 0.8 trillion rupees and 2.2 trillion rupees respectively, so the budget deficit could potentially widen, Rachbini noted.
The government expects the 2022 state budget deficit to reach 868 trillion rupees or 4.8 percent of the national gross domestic product (GDP), it noted.
Related News: New Capital to Accelerate Economic Development: President
Related news: Indonesia works intensively with World Bank to strengthen economy
Related news: Government prepares for post-pandemic economic order: Minister